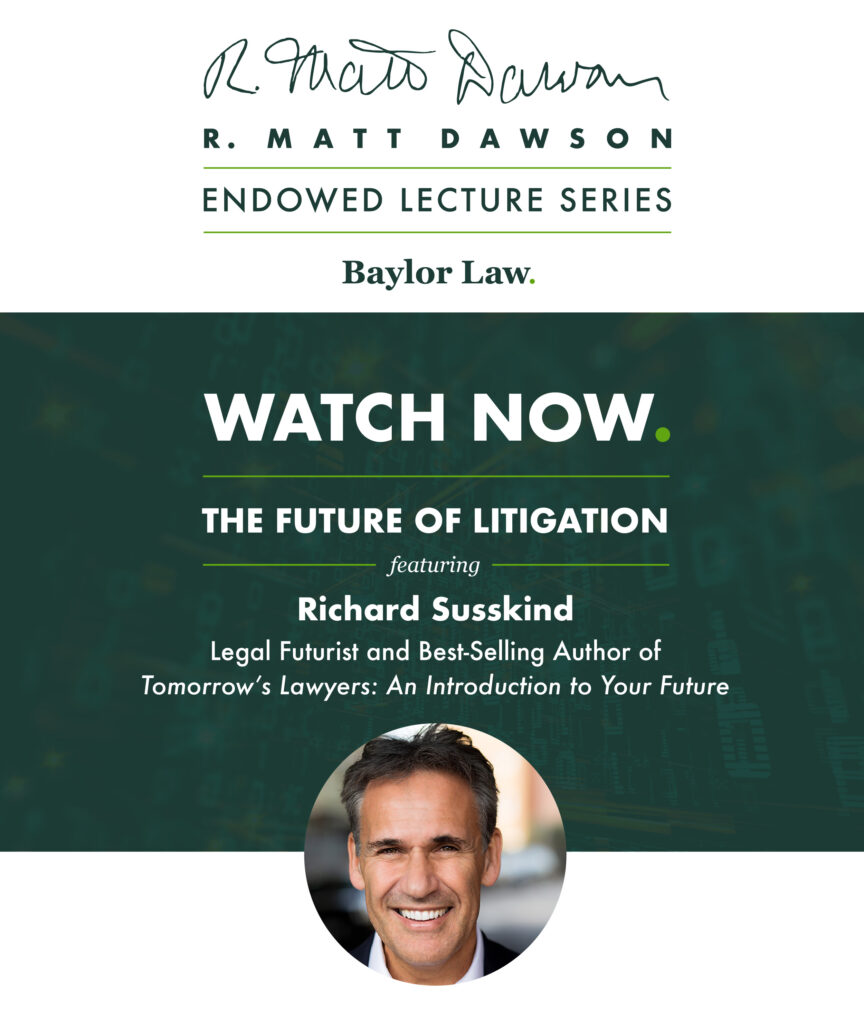 Our online lecture on The Future of Litigation featuring Richard Susskind is now available for online viewing. WATCH HERE
---
Approved for 1.5 hours of MCLE credit by the State Bar of Texas Committee on MCLE, including 0.75 hours of Legal Ethics/Professional Responsibility credit.
Professor Richard Susskind OBE is an author, speaker, and independent adviser to major professional firms and to national governments. His main area of expertise is the future of professional service and, in particular, the way in which the IT and the Internet are changing the work of lawyers. He has worked on legal technology for over 30 years. He lectures internationally, has written many books, and advised on numerous government inquiries.
Richard lectures internationally and has been invited to speak in over 40 countries and has addressed audiences (in person and electronically), numbering more than 250,000. He has written and edited numerous books, including Expert Systems in Law (OUP, 1987), The Future of Law (OUP, 1996), Transforming the Law (OUP, 2000), The Susskind Interviews: Legal Experts in Changing Times (Sweet & Maxwell, 2005), The End of Lawyers? Rethinking the Nature of Legal Services (OUP, 2008), Tomorrow's Lawyers (2013), and has written around 150 columns for The Times. His work has been translated into 10 languages.
About The Executive LL.M. in Litigation Management
---
The Baylor Law Executive LL.M. in Litigation Management is the first LL.M. in Litigation Management program in the nation—designed exclusively for lawyers who aspire to direct effective litigation strategy, control electronic discovery, leverage technology, manage a team, and lead their company or firm's efforts to manage a high-volume, high-stakes docket.
Baylor Law is now accepting applications for the class starting Fall 2021. Our admissions team is available to answer any questions, please call 254-271-0454 or email [email protected].
Don't forget, it you have that special case, that big case and you would like to talk about how the Miller Method might help you achieve the verdict you seek. Call me at 615-356-2000.